Bad Music Boogaloo #2 od 14. do 16. juna u Beogradu
Ovogodišnji, drugi po redu Bad Music For Bad People festival Bad Music Boogaloo #2 okuplja vrhunsku internacionalnu rokenrol ekipu i bendove na fešti koja, kako to već dolikuje velikim praznicima, traje tri dana.
Izbor izvođača čini Boogaloo potpuno jedinstvenom rokenrol pojavom u regionu, a svi su nesumnjivo u skladu sa Bad Music For Bad People muzičkom teorijom i praksom.
Tako će na Bad Music Boogaloo #2 nastupiti Slim Cessna's Auto Club (SAD), The BellRays (SAD), Messer Chups (Rusija), Delaney Davidson (Novi Zeland), The Hooten Hallers (SAD), L.A. Witch (SAD), Bo (Srbija), The Harp Explosion (Hrvatska) i Moussaka (Srbija).
Drugo izdanje Boogaloo-a će se održati na dve lokacije. Prva dva dana su rezervisana za Kulturni centar "Grad"*, a trećeg dana surfujemo do "Elektropionira".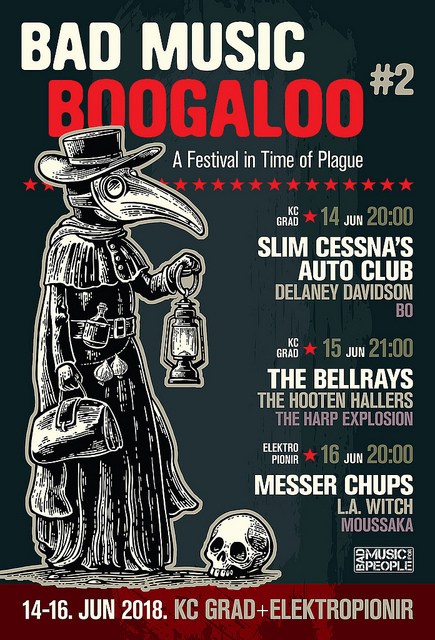 14. jun @ KC Grad 20:00
Bo
Delaney Davidson
Slim Cessna's Auto Club
15. jun @ KC Grad 20:00
Harp Explosion
The Hooten Hallers
The BellRays
16. jun @ elektropionir 20:00
Moussaka
L.A. Witch
Messer Chups